2023 5th International Conference on Intelligent Control, Measurement and Signal Processing (ICMSP 2023) is an annual conference. This year, ICMSP 2023 will be held in Chengdu, China on May 19-21, 2023.
The conference will mainly focus on the development of intelligent oil field, measurement and control technology, intelligent instrument, photoelectric detection, intelligent control and automation, signal and information processing, artificial intelligence and robot and other research fields of oil and gas fields. The conference aims to provide an exchange platform for experts and scholars, engineers and research personnel of related fields.
By discussing scientific research achievements and advanced technology, we can understand the trend of academic development, broaden our horizon in research, strengthen the level of academic research and discussion, and promote the intelligent level of development and the industrialization of academic achievements.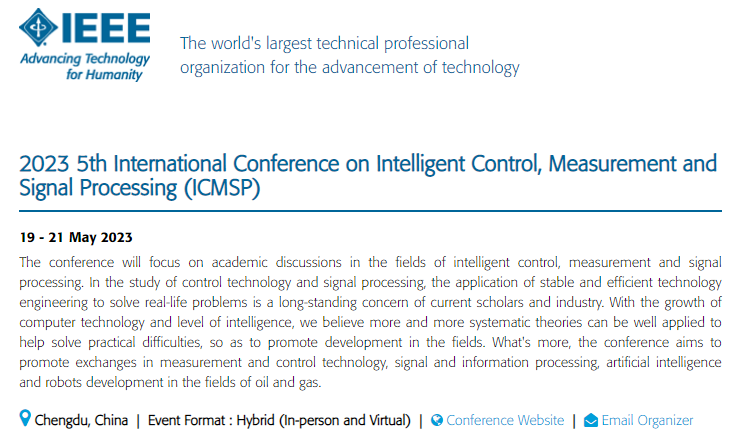 Organized by
National Engineering Reaearch Center for Oil & Gas Drilling Equipment

Southwest Petroleum University

China Instrument and Control Society


Xi'an Shiyou University


Zhejiang University of Water Resources and Electric Power

CNPC National Engineering Research Center for Oil&gas Drilling Equipment Co., Ltd.

School of Mechatronic Engineering, Southwest Petroleum University

School of Electronic Engineering, Xi'an Shiyou University

The College of Electrical Engineering, Zhejiang University of Water Resources and Electric Power

Shaanxi Association of Young Technologists & Scientists

Nanjing University of Science and Technology

Nanjing University of Information Science and Technology

Xi'an Jiaotong University

North University of China

Instrument Science and Measurement and Control Technology of China Association of Higher Education

Harbin University of Science and Technology

Wenzhou University of Technology

Nanjing Institute of Multi-platform Observation Technology

Science & Technology Office of Xi'an Shiyou University

Shaanxi Key Laboratory of Measurement and Control Technology for Oil and Gas Wells
Know more about ICMSP
About 2022: www.icmsp.net/uylpfexh
About 2021: www.icmsp.net/klksxfdb
Full Paper Submission Date: March 31, 2023
Notification of Acceptance Date:April 24, 2023
Final Paper Submission Date:May 8, 2023
Conference Date:May 19-21, 2023