2022 4th IEEE International Conference on Intelligent Control, Measurement and Signal Processing (IEEE-ICMSP 2022) is an annual conference. This year, IEEE-ICMSP 2022 will be held in Hangzhou, China on July 8-10, 2022.
The conference will mainly focus on the development of intelligent oil field, measurement and control technology, intelligent instrument, photoelectric detection, intelligent control and automation, signal and information processing, artificial intelligence and robot and other research fields of oil and gas fields. The conference aims to provide an exchange platform for experts and scholars, engineers and research personnel of related fields.
By discussing scientific research achievements and advanced technology, we can understand the trend of academic development, broaden our horizon in research, strengthen the level of academic research and discussion, and promote the intelligent level of development and the industrialization of academic achievements.
Due to the widespread of COVID-19, IEEE-ICMSP 2022 will be postponed to July 8-10, 2022. The submission and registration deadline will be postponed correspondingly. All the adopted papers will be published and submitted to EI, Scopus, Inspec indexers after the conference.Thank you for your understanding and support!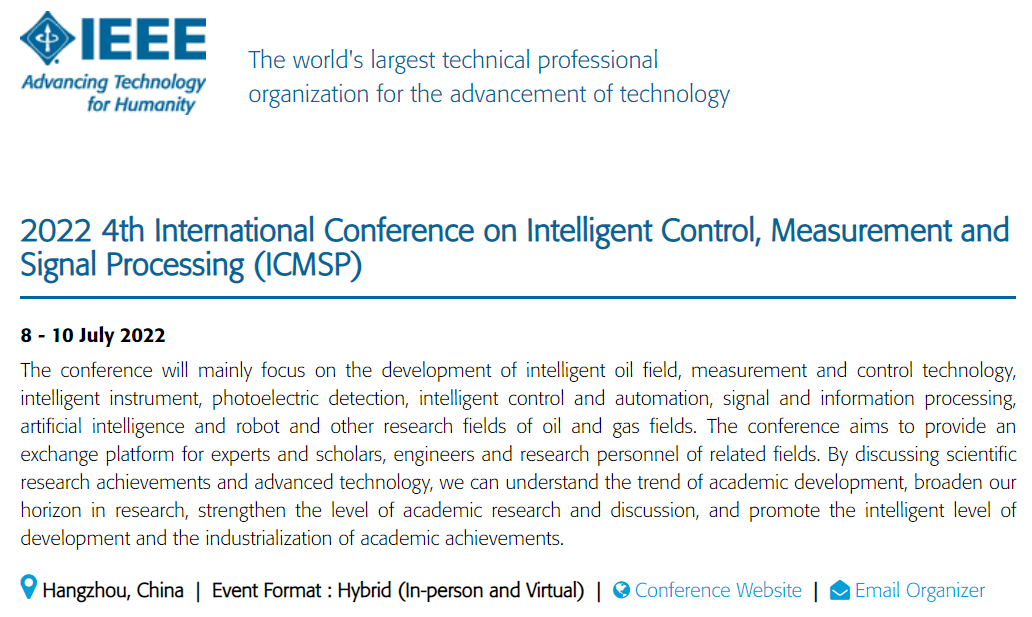 Hosts:
Zhejiang University of Water Resources and Electric Power

Xi'an Shiyou University

Hangzhou Association for Science and Technology


Zhejiang Youth High-level Talent Association

Instrument Science and Measurement and Control Technology of China Higher Education Society

Organizers:
Hangzhou Instrument and Control Society

Bureau of Economy, Informatization, Science and Technology, Qiantang District, Hangzhou City

Assoiation of Science and Technology, Qiantang District, Hangzhou City


Hangzhou Science Base of China Instrument and Control Society

College of Electrical Engineering, Zhejiang University of Water Resources and Electric Power


School of Electronic Engineering, Xi'an Shiyou University


AEIC Academic Exchange Information Center


School of Electrical and Control Engineering, North University of China


College of Electrical and Electronic Engineering, Wenzhou University


College of Mechanical and Automotive Engineering, Zhejiang University of Water Resources and Electric Power


School of Geomatics and Mapping Engineering, Zhejiang University of Water Resources and Electric Power


College of Information Engineering, Zhejiang University of Water Resources and Electric Power


The Zhejiang (China) - Belarus Joint Laboratory of Intelligent Equipment and System for Safety Monitoring of Water Resources and Hydropower

Science & Technology Office, Zhejiang University of Water Resources and Electric Power



Co-organizers:

Hangzhou Institute of Electronics

Hangzhou Digital Ficonomy Union


China Jiliang University


Nanjing University of Information Science and Technology

Harbin University of Science and Technology


Wenzhou University of Technology

Shanxi Jinzhong Institute of Technology


Nanjing Institute of Multi-platform Observation Technology


Science & Technology Office, Xi'an Shiyou University


School of Science, Xi'an Shiyou University

Shaanxi Key Laboratory of Measurement and Control Technology for Oil and Gas Wells

Engineering Research Center of Ministry of Education for Intelligent Rehabilitation Device and Detection Technology

Hebei Key Laboratory of Robotic Sensing and Human-Robot Interactions

Zhejiang Chitic Control Engineering Co., Ltd.


Hangzhou Supmea Automation Technology Co., Ltd.

Zhejiang ZOGLAB Atmosphere & Environment Co., Ltd.


Huzhou Nanyang Washer Motors Company




Full Paper Submission Date: May 15, 2022
Notification of Acceptance Date: one week after submission
Registration Deadline: July 1, 2022
Final Paper Submission Date: June 30, 2022
Conference Date: July 8-10, 2022